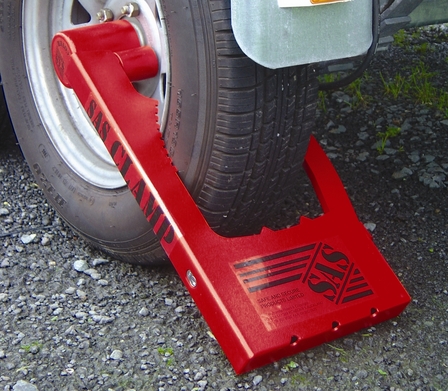 wheel clamp - fit tyres up to 200mm wide - idel for trailers
The most important purchase you will make towards protecting your boat is a Safe And Secure SAS Wheel Clamp from Stolenz. It is one of the most effective methods of keeping your boat or trailer safe and is NZ insurance approved.
The Clamp that fits in seconds.
This High Security Wheel Clamp is easy to fit and very secure.

3 Sizes available - It is important to have the right size.

Covers the Hub and a wheel nut.

Twin Locking mechanism for double security.

Longer extension sleeves are available to cover recessed wheel nuts.

The measurement is taken by the WIDTH of the tyre. This 8" wheel clamp fits tyres up to 8" wide.
Don't become another victim of theft, invest in a Safe And Secure Wheel Clamp today.